← Previous product___.
___Next product →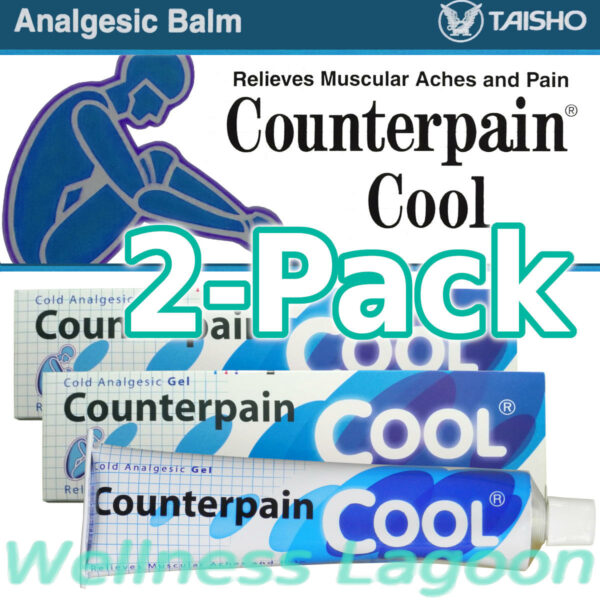 2x Taisho Counterpain Cool Gel (Blue) – 120g
$ 22.00
2x Taisho Counterpain Cool Gel 120g

cooling effect

relieves sport injury related aches and pains

for external use only

2x Taisho Counterpain Cool Gel (Blue) – 120g
Cold Analgesic Gel
Taisho Counterpain Cool Gel contains Menthol for relief muscular aches and pain.
Scope:
Rub-in Counterpain Cool analgesic gel for cooling effect and relief of minor aches and pains of muscles associated with bruises, strains, sprains and similar sport injuries.
Easy to use.
Hint: Store in the fridge for enhanced instant cooling effect.
Active ingredient:
Levomenthol 4 %
Caution:
For external use only !

Be careful not to get any of the balm into (or close to) your eyes, open wounds, mucous membranes, etc !

Do not use with heating pads or heating devices.

This balm can have quite an aggressive effect on sensitive skin and lead to skin irritations or even inflamation – apply cautiously !

This analgesic balm is and does not replace any medicine.

Store below 30° C.
Note:
We would like to point out that we usually do NOT store balms, oils, creams and other health and care products as they have an expiration date, but always buy those products "fresh" for each order. Therefore, the shipment may possibly be delayed by 1-2 days.

Only logged in customers who have purchased this product may leave a review.
← Previous product___.
___Next product →