Description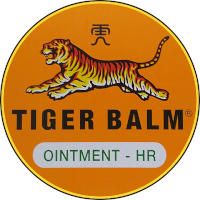 5x Tiger Balm Back Pain Patch
Stretchable Warming Plasters (10cm x 14cm)
Tiger Balm Back Pain Patch for relief of sore, aching back – warming and soothing.
Being stretchable, this warming patch fits well on the back of your body and allows easy and non messy application.
Contents:
1 bag contains 2 stretchable, adhesive patches/plasters – 10cm x 14cm.
Scope:
Tiger Balm Warming Plaster Red provides a long lasting soothing muscular pain relief. It specifically helps to relieve sore muscles, stiff neck, shoulders & backaches.
Once applied, its ingredients are absorbed into the skin to stimulate blood circulation which helps to expedite the healing process.
Directions – easy to apply:
Clean and dry area of application. Avoid direct contact with hot or sweaty skin.

Peel off the protective plastic film from the patch (by pulling both ends).

Apply the plaster to the affected area once or twice a day.
Using hydrogel technology on non-woven ventilated material, Tiger Balm Plaster (Cool) is comfortable to use with easy-on, easy-off application that leaves no residue on skin, and provides quick, effective muscular pain relief for hours.
Active ingredients per 100g of the paste:
Camphor: 1.0 g, Mentha Oil 0.6 g, Eucalyptus Oil: 0.5 g, Menthol: 0.3 g, Capsicum Extract: 0.2 g
Caution:
For external use only.

Remove 1 hour before bathing.

Do not apply around eyes, mucous membrane, wounds or inflammed skin.

These medicated plasters can have an aggressive effect on sensitive skin and lead to skin irritations.

Don't apply on hot or sweaty skin.

Pregnant and nursing women and any person with allergic reactions should consult a physician before use.

These medicated plasters are and do not replace any medicine.

Store in cool place away from direct sunlight and below 25° C.
Note:
We would like to point out that we usually do NOT store balms, oils, creams and other health and care products as they have an expiration date, but always buy those products "fresh" for each order. Therefore, the shipment may possibly be delayed by 1-2 days.
We also offer Tiger Balm Plasters Cool:
We also offer Tiger Balm Plasters Warm: